About Reno Stairs®
Reno Stairs® has been active in the staircase renovation market for many years. Because we were the first suppliers of this patented staircase renovation system, our staff members have all the required specialist skills to renovate your staircase.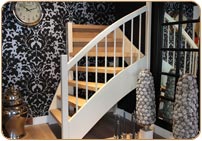 Staircase renovation showroom
You may visit the staircase renovation showroom in Hoogkarspel daily from 08:00 – 18:00 to see all the possibilities in staircase renovation. Our staff members will gladly show you our extensive collection while you relax with a cup of coffee.
View showroom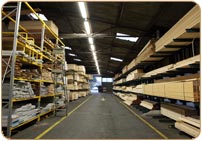 In House
We have years of experience with wood products; we have our own storage and our own wood processing factory. This enables us to deliver on time, with expert knowledge and with the best customer service.

Sponsoring
Reno Stairs® is actively involved in our community and therefore we sponsor various sports, teams and events. We sponsor various successful dressage riders and football teams. Follow the Reno Stairs® sportsmen and -women on the newspage.
Methodology
When your old stair case is clean and bare, you can simply saw the wood or laminate of your staircase renovation system to measure and clad the treads. The specially developed glue construction makes assembly easy and safe. Reno Stairs® guarantees years of enjoyment with your renovated staircase.
View methodology
Staircase renovation certification
All our products (where possible) comply with national and international certifications like the FSC certification for (hard) wood and the certification by Keurhout.

The FSC (Forest Stewardship Council) is an international organisation that stimulates sound forestry. The FSC sets global standards for forestry with a corresponding certification. The FSCNederland foundation strives to increase the amount of FSC wood and paper in the Netherlands. Would you like to learn more?

Visit the FSC website..
Would you like to learn more about the certifications we use? Contact us.