Staircase renovation with Reno Stairs®
When your old staircase is an eyesore, when you want something new or you are looking for a cheap but effective solution, then Reno Stairs® staircase renovation is the answer. Covering the stairs with wood or laminate stair cladding gives a new, fresh appearance without complicated engineering or demolition work.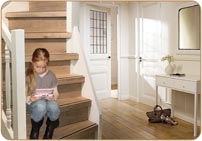 Staircase renovation with affordable
quality
By developing a unique system, Reno Stairs® has made staircase renovation affordable and simple. By using high-quality and environmentally friendly materials, your staircase is transformed in a manner that matches that of a major renovation.
With the Reno Stairs® staircase renovation system you profit not only from the attractive price, but also from our many years of experience in wood products. Calculate the price of your staircase renovation
Durable and environmentally friendly staircase renovation
After long years of experience in processing wood and wood products, Reno Stairs® staircase renovation made a conscious decision to use only high-quality and environmentally friendly materials. That is why you can be assured of durable and wear-resistant products for your staircase renovation and of the very best quality. The patented Reno Stairs® staircase renovation system is therefore not only very successful, but also an honest product. View hallmarks
Colours - staircase renovation
With our wide range of colours and wood types there is definitely something for everyone. Whether you choose a modern look, classic ambience or a multicoloured playfulness of vividly coloured stairs, at Reno Stairs® you can have your staircase renovation appointed exactly to your taste. View colors
You are welcome to drop by our staircase renovation showroom or chat to one of our dealers in your neighbourhood about the possibilities.